Welcome to Book Buddies PH's blog tour stop for, Branded.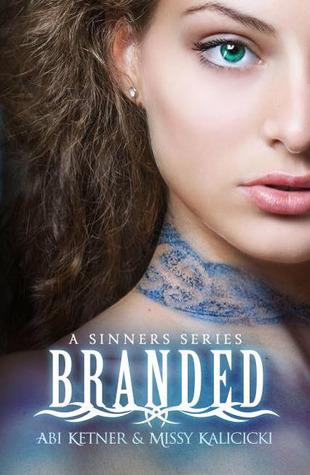 Branded (Sinners, #1)
Author: Abi Ketner & Missy Kalicicki
Publisher: Self-Published

Category: Young Adult/New Adult

Genre: Dystopia, Romance
Pages: 314

Format: eBook


Rating: ★★★

★

and a half
…………………………………………………………………………………………
SYNOPSIS:
Fifty years ago the Commander came into power and murdered all who opposed him. In his warped mind, the seven deadly sins were the downfall of society. He created the Hole where sinners are branded according to their sins and might survive a few years. At best.
Now LUST wraps around my neck like blue fingers strangling me. I've been accused of a crime I didn't commit and now the Hole is my new home.

Darkness. Death. Violence. Pain.
Now every day is a fight for survival. But I won't die. I won't let them win.
The Hole can't keep me. The Hole can't break me.
I am more than my brand. I'm a fighter.
My name is Lexi Hamilton, and this is my story.
…………………………………………………………………………………………
MY THOUGHTS:
Wow, this book is a masterpiece! Utterly amazing.
I love how the book started, it's full of action already. You can feel the adrenaline rush that Lexi felt when she was chased by the guards. When I read the first page, I instantly knew I had to read this book because it seemed awesome. If there's a word that would describe the whole book, it would be AMAZING.
1. CHARACTERS:

The characters are flawed and that's why they seemed realistic. Everyone keeps a secret that made the story even more fun and thrilling to read.

Lexi

, a girl who is accused of something she didn't do. She was branded Lust and that's why she was sent to a place called the "

Hole

". Lexi is a strong and smart girl and she fights for what's right all through-out the story. She didn't think of revenge towards the Commander when she had the power to take him down, but instead she just thought about saving the people inside the Hole who was suffering.

While

Cole

, is one of the guards at the Hole and he was assigned to be Lexi's guard and that's where they met and that's also where the story between them started to brew. Cole on the outside seemed snob and a guy who doesn't care about other people's feelings but that's where I was wrong. Cole still keeps his heart that loves and cares for everyone else around him.

2. CONCEPT & WRITING STYLE:

The concept is pretty predictable when it comes to Lexi and Cole's love story and that's why I gave the book a 4.5 stars but trust me, I (really) love how the story went for everyone. Lexi and Cole really started out as acquaintances and I can consider it as no instant-love. For the revelations through-out the story, it blew my mind. All revelations made me want to read more and never stop unless there's something I need to do. The story is well written by awesome authors, Abi and Missy.

3. OVERALL:

I (SUPER) LOVE THIS BOOK! It's one of my favorite 2014 reads. From the beginning up to the ending, awesome. Two thumbs up to Abi and Missy for writing an awesome story. I CAN'T WAIT FOR BOOK TWO! Give it to me now. Haha. I would totally recommend this to Dystopian lovers out there. This book kind of reminds me of Divergent even though I haven't finished reading the book. (Don't judge me. I'll read it soon!)


…………………………………………………………………………………………

*I received a copy of this book for the blog tour and in exchange of a honest review.*


…………………………………………………………………………………………


Meet the beautiful authors of Branded:
Abi on the left side and Missy on the right side.


Abi and Missy met in the summer of 1999 at college orientation and have been best friends ever since. After college, they added jobs, husbands and kids to their lives, but they still found time for their friendship. Instead of hanging out on weekends, they went to dinner once a month and reviewed books. What started out as an enjoyable hobby has now become an incredible adventure.


…………………………………………………………………………………………


Connect with them!
Twitter // Instagram // Website // Facebook