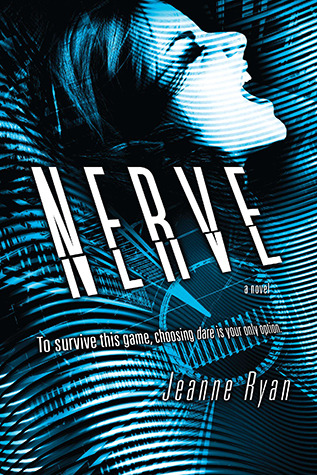 Title:
Nerve
Author:
Jeanne Ryan
Publication:
September 13th 2012 by Dial Books (Penguin)
Format: Hardback, 294 pages
Genres: Young Adult, Thriller, Mystery
Source: Borrowed from Carmel
(Thanks!)
Synopsis:

For fans of The Hunger Games

A high-stakes online game of dares turns deadly.

When Vee is picked to be a player in NERVE, an anonymous game of dares broadcast live online, she discovers that the game knows her. They tempt her with prizes taken from her ThisIsMe page and team her up with the perfect boy, sizzling-hot Ian. At first it's exhilarating--Vee and Ian's fans cheer them on to riskier dares with higher stakes. But the game takes a twisted turn when they're directed to a secret location with five other players for the Grand Prize round. Suddenly they're playing all or nothing, with their lives on the line. Just how far will Vee go before she loses NERVE?

Debut author Jeanne Ryan delivers an un-putdownable suspense thriller.
Review:
Nerve is basically about a online game of dares. If you play the game, you can get a prize. Not just a simple prize but something bigger, something the players of the game will never expect. Vee decided to play the game because she was mad at her best friend, Sydney, and she wanted to impress Matthew, the guy she's been crushing on. The game tempted Vee with the prizes at stake and since she would really love to win the prizes, she decided to play along, and she was teamed up with a hot guy named Ian to do the much riskier dares.
At first, the dares was simple but then as the story goes on, it turns deadly

but this does not happen until

about several chapters left and it wasn't really that deadly. I expected more dangerous dares and lot of blood. That may sound extreme but I wanted someone to die because they introduced the word, deadly. Another thing I don't like about this book is, insta-love. I mean, there's nothing wrong with being in love but you just met the guy a few hours ago!
Though it kind of disappointed me at first, it totally made up with the ending. What I like about this book is it was fast paced and it's filled with mystery.
Plus the cover looks great and the synopsis was intriguing but this could have been better.
The only question left by this book for us to answer is;
"How far would you go to get what you want the most when it's right there, offered, in front of you?"
Rating:
★★★
Leave your thoughts below because I'd love to know your opinions!