Pre-order Skyscraping: Amazon | Barnes & Noble
Why I am waiting on
Skyscraping
...
When I first saw this book, I immediately added it to my TBR shelf because I love novels about family. I also had second thoughts because I haven't read novels with GLBT issues but I figured out it would be worth a try. Plus there's a review on Goodreads that says that the story is told through poems, which makes me much more E-X-C-I-T-E-D. Can you feel my excitement? Teehee. *flails*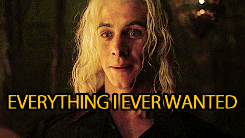 To be honest, the cover kind of reminds me of a scene in Divergent. Check out the GIF below.
What books are you eagerly anticipating? Let me know through the comments section below!